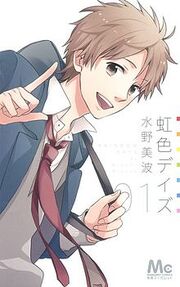 Nijiiro Days (虹色デイズ, Nijiiro Deizu?, lit. Rainbow Days) is a Japanese shoujo manga series written and illustrated by Minami Mizuno, published in Shueisha's Bessatsu Margaret magazine. A drama CD was released with the seventh volume of the manga in October 2014. An anime adaptation produced by Production Reed began airing on January 10, 2016, and finished on June 26, 2016.
The series details the lives of four main characters named Natsuki, Tomoya, Keiichi, and Tsuyoshi. They spend their days trying to have fun by finishing their studies and debating about romance. Natsuki, one of the main characters, has a crush on a girl named Anna at school, while others often get involved in their relationship.
Main article: Nijiiro Days (Manga)
The series is written by Minami Mizuno, who began publishing it in Shueisha's shoujo magazine Bessatsu Margaret in February 2012.
The manga is published by Shueisha and has been compiled in twelve volumes since May 2012. A drama CD was bundled together with the seventh volume as a limited edition on October 2014. In France, the first volume was published by Kazé Manga on 3 February 2016 and the second volume was released on 13 April 2016.
Main article: Nijiiro Days (Anime)
An anime television series adaptation was announced in the September 2015 issue of Bessatsu Margaret. Tetsuro Amino will serve as chief director with Tomohiko Ohkudo directing at the animation studio Nijiiro Days (Anime) The series' opening theme song will be performed by Sonar Pocket, while its ending theme, "Rainbow Days", will be performed by Yoshitsugu Matsuoka, Takuya Eguchi, Nobunaga Shimazaki, and Kouki Uchiyama, the voice actors for Natsuki Hashiba, Tomoya Matsunaga, Keiichi Katakura, and Tsuyoshi Naoe, respectively.
External Links
Edit